Osias Hofstatter (1905 – 1995) was an unusual figure in the Israeli art world. He was born in Poland and spent many years in Vienna, Austria. fled the Nazis in 1938, and after many trials and tribulations in refugee camps and repeated fleeing, he returned to Vienna, and from there went to Warsaw, Poland. It was only in 1957 that he immigrated to Israel. He presented his first exhibition at Katz Gallery, Tel Aviv, and a year later at Dugit Gallery.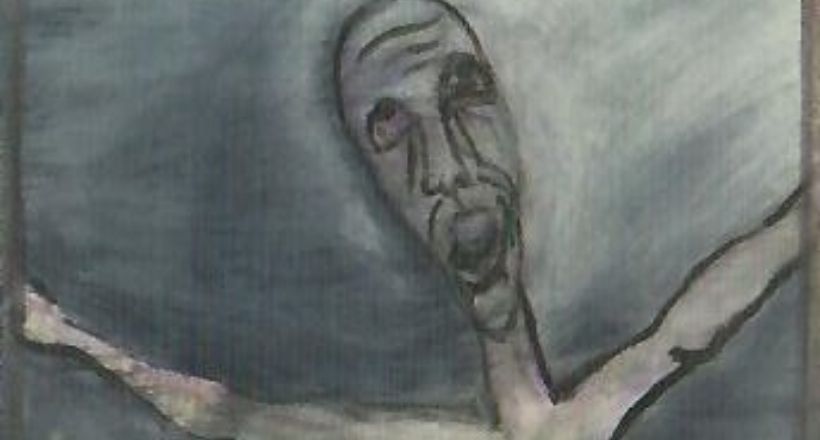 Nature was blackened in Hofstatter's drawings and paintings populated by the solitude of tortured, morbid figures. Ascetic, distorted, and semi-abstract figures with large heads, which signify human spirituality struggling against the crushing physical world. Within the engulfing darkness of the absurd, the figures are illuminated, as if they were assuming a mask and performing the drama of tragicomic human existence.
Rooted deep in German romanticism and European literary myths, Hofstatter turns to heroism only to expose the pathos of existence and the metaphysical curse lurking on it. The extensive engagement with Christian myth stems from the Holocaust account which the artist has been administering with Christianity and its saints, but also with the very possibility of redemption: Christ falls from grace into the darkness, and will not be resurrected in the heavens. Hofstatter's two works in the Levin collection, owned by the financial strategist of GTI, Ofer Levin, represent Hofstatter in his prime.
A full version of the commentary was originally written by Gideon Ofrat and published in 2014 in Broader Horizons by Levin Press.